There are several ways that you can earn money working at home using social network sites that you are already part of like Facebook, Twitter and Pinterest.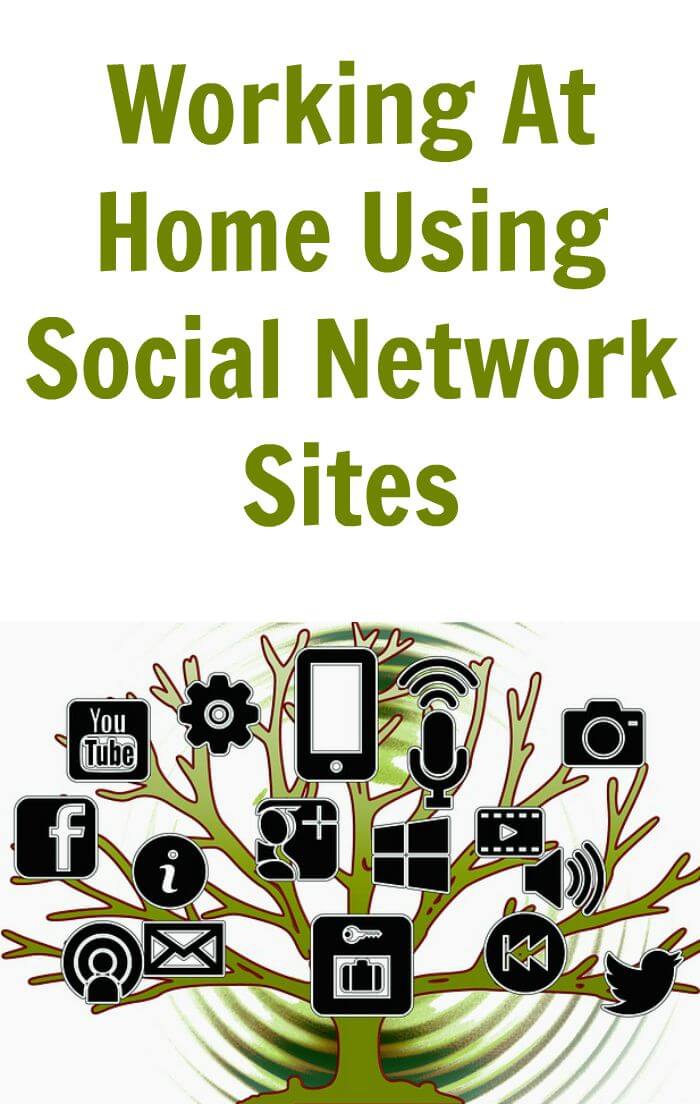 You can earn extra money and you will find the work fun!
Share Magnet gives you the opportunity to earn money for sharing links on your social network sites.
First an account with Share Magnet.
Next select your interests, view the links that you can share that are based on your interests.
Then choose the ones you want to share.
Now write a sentence or two about why you like the link, share the link and earn money when your share earns clicks.
There are numerous networks that you can share the links with including Facebook, Twitter, Digg, LinkedIn, Google Plus, Ping This and Reddit.
While you most likely will earn some spending cash with this site, it is something you probably already do so why not get paid for it?
The money you earn will vary and can be transferred to your PayPal account.
Viraliti is an opportunity that pays you for pinning on Pinterest.
First you provide them with your email, you will be contacted once they have sign-ups.
Basically, you register with the site and once you sign in, you can see what offers are available for pinning.
You are paid a fee each time that you pin on Pinterest, when someone else clicks your pin.
The amount you are paid varies but ranges from 2 cents to 21 cents per click.
The site also has plans in the works for using Twitter and YouTube as well in the future.
You will get paid by PayPal on the 1st and the 16th of each month. Payout threshold is $30.
Viraliti also has a great referral program with three levels.
You can earn either 2%, 4% or 7% of your referrals' earnings.
The Social Element
If you love Social Media then apply for a position within this niche job market.
Many of the offerings are "remote" work at home positions.
They request a resume outlining your experience and roles you have performed.
The Social Element encourages multi-lingual candidates to apply.
Social media continues to expand globally so they need people that can communicate in different languages.
Readers that found this article useful took advantage of these free eBooks 

 
Free eBook download Biggest Facebook Marketing Mistakes –  You are leaving a Ton of money on the table if you make these mistakes. 
Facebook – The World's Biggest And Best Social Relationship Site Just Got EVEN BETTER – And Here's How You Can Now CASH IN Big Time – Click here to Download. 
Free eBook download Twitter Mind Control Secrets for Business – make sure you find out about this breakthrough before your competitors – because if they use this against you – you're toast! 
Twitter Marketing Secrets – Discover How to harness this 18th Century Scientific Breakthrough to This 21st Century Social Media Site and transform your business into a Profit Powerhouse – Click here to Grab Your Copy 
Instagram Dominator 5.0 – The Ultimate Guide to building and marketing your business with Instagram – Click here to download 
Free eBook download Instagram A New Marketing Frontier – Reap your own reward from this Billion-Dollar Deal. 
Free eBook download Linkedin Marketing Mistakes – EXPOSED: The Little Known Business POWERHOUSE Most Folks Think is Only For Job Hunters! Download Your Copy Here. 
Transform Your Business with Linkedin – The Biggest Social Marketing Trap of All… How YOU Can Avoid It AND Profit Big Time! Click Here to Grab Your Copy. 
Free eBook download Harness The Power of Pinterest – Send more useful referral traffic than Linkedin and Youtube combined. 
Mastering Pinterest Marketing – This is probably the fastest, surest way to get tons of targeted traffic you'll ever find – Click her to Download. 
Free eBook download Mastering Google Plus Now – how you can cash in before the fur starts to fly? 
Mastering Google Plus Now – Read on to discover how you can ride on the coat tails of this giant to certain victory in the traffic wars STARTING RIGHT NOW… Click Here to Grab Your Copy. 
Free eBook download Inevitable Social Media – Social Marketing Myths revealed 
Dominate Social Media to expand your business for higher profits – Click here to download